Oyase Community School
2019-2020 Program Year
Celebrating Our 20th Year!
Oyase Open House 2020
Thursday April 30th
9am-3:15pm
Location & Timing: former Camp Arden in Dummerston, VT
Cost: Suggested donation $10
Ages: 6-15
Come get a taste of what it is like to attend Oyase.  Parent Guardian Q&A opportunities with Director Amy Hyatt in the morning and the afternoon.
Registration Required – click here!
Dates: Mid-September 2019 to Late May 2020, Thursdays 9am – 3:15pm
Location: former Camp Arden in Dummerston, VT
Cost: Sliding Scale; $1,300 – $1,900 for 27 Sessions including a Spring Overnight. Actual cost is approximately $1,425
Ages: Youth, 7-15
Financial Aid available – contact Amy Hyatt at hyatt@vermontwildernessschool.org for application.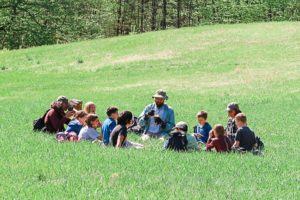 Oyase Community School, founded in 1999, brings together children and adults from throughout the region to create a multi-age learning environment that engages and inspires children and teens to learn real life skills, confidence in their own being, and developing relationships with the natural world and each other. Students are guided by an experienced team of instructors skilled in facilitating learning of Earth Living Skills, Nature Awareness and Community Skills.
Oyase is dynamic learning environment with 40-44 youth attending weekly…and once a month we are joined by another 3-12 veteran youth.   The program day begins with everyone together playing games until everyone has arrived.  Then we gather for Morning Circle.  Following Morning Circle, we then shift into four groups of 9-12 youth (5 groups on Monthly sessions) with at least two instructors per group.  Sometimes there are three instructor with the addition of a Teen Helper, an Adult Volunteer or Intern.  After our small group adventures and explorations for the day, we come back together as a large group for Afternoon Circle and Story Time.
For youth who would prefer a smaller program, we now offer "Oyase Too" – a second day of Oyase Community School that meets in Marlboro, VT with a cap of 24 youth (maximum 2 groups of 12 youth).  Oyase Too is also an option for youth who want two days a week outside learning and exploring.
Oyase Community School is committed to long-term mentoring with many of our youth attending for multiple years.  This is reflected in our 75% retention rate from year to year.  This commitment includes staff members who started out as students at age 6 or 7 and now, 12+ years later are in turn mentoring youth in deep nature connection, earth living skills and community skills.
As a community-based school, each family contributes 12 hours of community service to help run the program and strengthen relationships between families. Financial Aid is available.
To learn more about Oyase Community School, download this letter: 16-17 Oyase Program Overview