Oyase Community School
When:  Thursdays 9 am – 3:15 pm. Mid-September 2020 to Late May 2021. 27 weeks.  (Note: We will likely have staggered start and end times for the program this year to reduce large group congestion at drop off and pick up.  Staggered arrivals will also help us smoothly facilitate Health Checks including temperature taking with no touch thermometers).
Where: Site of the former Camp Arden, Dummerston, VT
Ages:  7 – 15
Cost:
2019-2020 Full year: $1,300 – $1,900 (sliding scale) for 27 Sessions.  Actual per-student cost is $1,425.

2020-2021 Tuition to be Updated.  Likely increase upon reopening to cover new COVID-related costs.  We are still working these expenses out.

Partial-year (fall, winter, or spring) sign-ups considered on an individual basis.
Scholarship funds are available.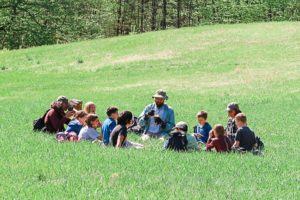 Oyase Community School, founded in 1999, brings together children and adults from throughout the region to create a multi-age learning environment that engages and inspires children and teens to learn real life skills, confidence in their own being, and developing relationships with the natural world and each other. Students are guided by an experienced team of instructors skilled in facilitating learning of Earth Living Skills, Nature Awareness and Community Skills.
Oyase Community School is committed to long-term mentoring with many of our youth attending for multiple years.  This is reflected in our 75% retention rate from year to year.  This commitment includes staff members who started out as students at age 6 or 7 and now, 12+ years later are in turn mentoring young people.
Oyase is a dynamic learning environment known for both our small group activities AND large group activities over the years.  with 40-44 youth attending weekly…and once a month we are joined by another 3-12 veteran youth.  Due to COVID-19 health protocols, we will not be having the large multi-age group gatherings and will likely have to reduce the overall number of youth and staff present on the land on one day.  We will be continuing to offer the long-term mentoring in groups of 5-6 youth with an experienced Mentor and teen helper or adult volunteer.  We are currently testing this format at our summer camps.
COVID-19 Notice: ***We are currently determining the size and structure of the Oyase 2020-21 year. Our new COVID-19 Protocol is currently being tested at our summer camps, and has worked well for most children over age 7.  We do plan to offer Oyase this fall, unless external circumstances change.  It is also possible that, because of high demand or site-related concerns, we may add a second or even third day. If your child has joined the Wait List we'll keep you posted!***