Shambhala Warrior and Nature Camp
When: 9am –  3pm, June 22 – 26 (Mon-Fri), 2020
Ages: 9 – 15 (other ages by permission)
Where: The Manitou Project land in Williamsville, VT (20 minutes from downtown Brattleboro)
Cost: $285 – 385 (sliding scale).  The true cost per camper is $325.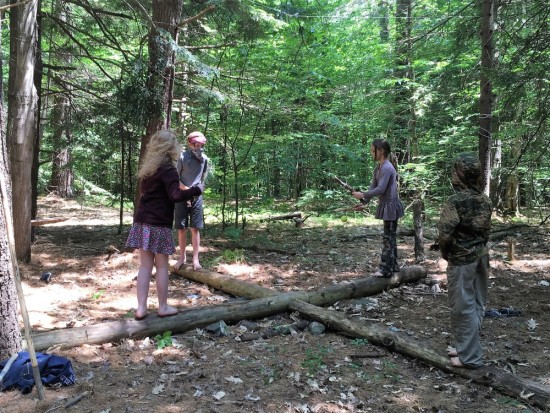 Join us for a week of Martial Arts & Nature Awareness training & play outside!
Amy Hyatt and other staff are offering a week of aikido training (a traditional Japanese Martial art, translates as "way of harmony") and nature awareness in the woods designed for youth ages 9-15 years old. Aikido, like most martial arts, began in nature and was guided by observing animals, birds, rocks, wind, rivers, trees and becoming attuned with the energies of life. We will also work on our scout skills – our ability to move through the woods quietly and to sneak up on each other, maybe even a Grey Fox! (We saw two grey foxes several times in 2019!!) As Shambhala Warriors, we will train for compassion and insight into Life – and have fun, joy, and wonder as we explore nature and the martial arts.
Amy has been training in aikido since 1998, holds the rank of nidan (2nd level black belt) and has been sanctioned by her Sensei (Teacher) to teach aikido. She has been teaching nature awareness & survival skills since 2002.  Amy will be joined by other staff and volunteers, to create an awesome week of summer camp!!
Camp activities include: 
Aikido Training
Art of Invisibility
Moving Silently
Imitating & Learning from the Animals and Nature
Scout Games and Challenges
Stories from the martial arts and nature
Using Staffs & Bokkens
Learning to Fall Safely
Hazard Awareness
Earning Bandanna Levels!  (Many martial arts have belt ranks to acknowledge increasing skill levels.  At Shambhala Camp, we have Bandanna Levels recognizing skills being developed by the campers).
The Shambhala Warriors are ones who train in and use the "weapons" of compassion and insight to go into the halls of power and dismantle the weapons of destruction. The Kingdom of Shambhala comes from a Tibetan prophecy over 1200 years old. This interpretation is comes via Joanna Macy who spent time with a group of Tibetan monks in the 1970s and early 1980s.
The roots of aikido and the nature awareness skills that will be shared in this camp are very much rooted in developing compassion and insight in caring for Life. The founder of Aikido, O-Sensei Morehei Ueshiba, was known to say "If you have injured your opponent, you have injured yourself."
Registration Information
To secure a spot you need to fill out the online Reservation Form and pay a $50 nonrefundable deposit via Paypal link on the sidebar.