Outdoor Education and Allyship with American Abenakis

An Online Discussion 
Tuesday, April 19, 2022  
7:00 – 8:30 pm
FREE. Spaces are limited.
Outdoor education is placed-based work, relying on land-based knowledge which often borrows from Native American survival and cultural craft skills.
This type of work and connection to the land may lead educators to wonder how they can be good allies for the American Abenaki people.
Panelists from several Abenaki cultural organizations will discuss their organizations and allyship needs.
Join our four panelists for this rich discussion, including opportunities for your questions.
Panelists: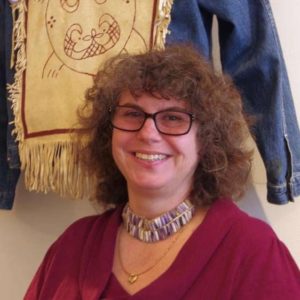 Vera Longtoe Sheehan is an educator, activist, and artist who serves the community in her roles as the Executive Director of both the Abenaki Arts & Education Center, and the Vermont Abenaki Artists Association. The combination of her experience and education allow her to develop dynamic and engaging exhibitions, programs, and courses that bridge the gap between the Native and non-Native communities. She is on the Executive Board for the Vermont Humanities Council, and appointed to the State of Vermont Act 1 Ethnic Studies and Social Equity Working Group. 
Sherry Gould is an enrolled tribal member in the Nulhegan Band of Coosuk Abenaki Nation, as well as the Tribal Genealogist and a lifelong resident of New Hampshire. She lives in Warner, where she serves as Co-Director of the Abenaki Trails Project. As a Western Abenaki master basket maker, Sherry was the first Native American juried by the League of NH Craftsmen. She passes on the art of making baskets by teaching apprentices and performing demonstrations around the region.
Chandlee Crawford is an enrolled member of the Abenaki Nation of Missisquoi and a resident of Hinesburg, Vermont. He is currently in his second year of studying International Relations and Indigenous Studies at Brown University, and is also on the board of directors of the Vermont Indigenous Heritage Center and a council member of Aln8baiwi. He is an avid artist and crafter, frequently combining traditional and modern styles in his work to show how Abenaki culture is still evolving, yet maintaining its roots.
Rich Holschuh is a resident of Wantastegok (Brattleboro, VT) and an independent historic and cultural researcher. He has served on the Vermont Commission on Native American Affairs and is a public liaison and Tribal Historic Preservation Officer for the Elnu Abenaki Tribe, members of the contemporary Indigenous community. Rich is founder of the Atowi Project. His work draws upon indigenous history, linguistics, geography, and culture to share beneficial ways of seeing and being in relationship with place.