Lynx Tracking Expedition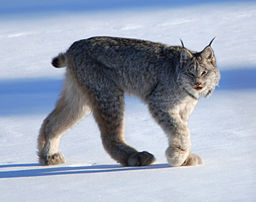 Enrollment: Enrollment will open Oct 1, 2023
Where: Jackman, Maine
When: Thursday evening through Sunday morning, February 23-26, 2023. Participants meet in Jackman on the evening of 2/23 and head home on Sunday 2/26.
Ages: Adults and motivated teenagers.
Cost: $375 – 495 (Sliding scale). Actual per-person cost is $415.  Cost does not include food and lodging. Scholarship and Reparations Funds available.
Food: Participants bring your own breakfast and lunch, and have the option to contribute to potluck dinners or provide your own.
Lodging: Participants are responsible for booking their own lodging. Cabin sharing options and a list of local accommodations can be found in the registration form.
Program Overview
Join Vermont Wilderness School for a long weekend on the trail of one of the most elusive carnivores of the Northeast. The Canada Lynx is built for deep snows, long winters, and big wilderness – all found in the vast lands of Northern Maine. We will spend the weekend together tracking, trailing, learning winter ecology, and building connection with the grey ghost of the North!
Evenings may include sharing stories of the day around a campfire. Individuals staying in motels or AirBnb's are welcome to gather with the group by the cabins.
Expedition Leader Bios:
Bob Etzweiler is a longtime teacher at the Vermont Wilderness School, leading both youth and adult programs. He runs both our Tracking Apprenticeship and the Hunter's Heart Hunting Apprenticeship. Bob has over a decade of experience in Wildlife Tracking, has been hired on wildlife track surveys, and is CyberTracker Level III certified. He's a skilled and passionate tracker and teacher.
COVID-19 Protocols:
VWS' COVID-19 policies can be found here. Because this program involves extended time in close proximity and we typically share potluck meals for dinner, additional COVID-prevention protocols may be in place at this program. This year, we require Lynx Expedition participants and staff to provide:
Proof of COVID-19 vaccination if staying in shared lodging;
Negative results from a COVID test taken within 2-3 days of the 1st day of the program.
To Enroll:
Complete the Registration form below.
Make a secure online payment via:

the PayPal box on the righthand side of this page OR;
a check payable to "Vermont Wilderness School" sent to: Vermont Wilderness School, P.O. Box 2585, Brattleboro, VT 05303.
Full payment or 1st installment of payment plan due by February 1.
Complete a Medical Form / Waiver by clicking the tab at the bottom of this page.
Review our scholarship and cancellation policies for more information.
Questions? Email office@vermontwildernessschool.org.
To receive email notifications about this program (save the dates, opening of registration, etc.), sign up here.