Who We Are
Core Staff
Amy Hyatt – Program Director
Amy moved to Vermont in August 2001 to participate in VWS's Instructor Apprenticeship Program, with the intention of later moving back to her home bioregion of Southwestern Ohio to start a wilderness school. But she quickly fell in love with Vermont, the work of VWS, and the children and families. She has been with us ever since. Amy now directs youth programs year-round, most notably Blue Heron Community School, Shambhala Warrior & Nature Camp, and Earthfriend Discovery Day Camp.
Amy's adult program offerings at VWS include the series Foundations in Nature Connection Mentoring and Nourishing Our Roots retreats.
Amy's specialty is working with children ages 7-11 and adults of all ages in areas of nature awareness, basic survival skills, cultural facilitation, and community building. She completed a Master of Arts in eco-literacy and place-based education from Union Institute and University and a Bachelor's of Philosophy in Cross-Cultural Communication through the Arts from Miami University.
Amy also provides consulting, custom workshops, and one-on-one distance mentoring.  See her consulting page. 
Bob Etzweiler – Program Director
Bob has always loved being outdoors. Before moving to Vermont in 2006, he was program director and naturalist at a summer camp / outdoor retreat center in his home state of Pennsylvania. Since then Bob has become a beloved mainstay at VWS, directing youth programs year-round, most notably Foxwalk Forest School, Teen Leadership Camp, Foxwalk Day Camp, and Otter Day Camp.
His adult program offerings at VWS include the Wildlife Tracking Apprenticeship, the Summer Tracking Intensive, the Hunter's Heart and the annual Lynx Tracking Expedition.
Bob loves tracking, hunting, tanning hides, crafting, and wandering. He also loves cooking by fire! 
Bob also provides consulting and custom programs.  See the VWS consulting page. 
Cara Michelle Silverberg – Communications Coordinator
Cara (she/her) has lived in the Connecticut River Valley for most of her life. Although the high deserts and Mediterranean scrub of her ancestral homelands tug on her soul, earning an M.A. in Peacebuilding and Conflict Transformation from SIT Graduate Institute in Brattleboro in 2019 and buying a home in Guilford in 2021 solidified her commitment to cultivating reciprocity and belonging in this magical corner of the world. She first encountered VWS in 2010 and is delighted to be part of its work and evolution.
In addition to her work with VWS, Cara facilitates Jewish earth-based cultural education, intergenerational healing, and bridge-building with native communities. As an educator and writer, Cara specializes in trauma-informed, embodied exploration of how indigeneity, diaspora, colonization, and intergenerational healing impact people's relationships with place. She finds balance and connection through moving her body, singing, reading, being quiet, celebrating Shabbat and Jewish holidays with friends, and working with plants.
Lucy Kahn – Business Manager
Lucy is the new "number cruncher" in the VWS office and is excited to support more opportunities for all of us to learn how to be in relationship with land. The ways she finds herself connecting with nature most these days are dog walks, gardening, stopping to sit with whichever plants are blooming, and hikes. Lucy lives in western MA (Pocumtuck/Nonotuck land) and has gotten to know southern VT by being part of the Lost River Rural Racial Justice Study Group and being a board member at Out In The Open.

Elissa Pine – Bookkeeper
Elissa was raised in Vermont and has a great love and appreciation for the outdoors. She has lived in the Brattleboro area since the mid 1990's and owned Adivasi, an Indian import business, for many years. She recently got her Masters' degree in nonprofit management with a focus on mission driven organizations from Marlboro College. Elissa does administrative work for Vermont Wilderness School, including bookkeeping and registrations. Besides her work for VWS, she is the Executive Director of Welcome Hill Studios; a women's artists' retreat in Chesterfield, New Hampshire.
Sam Stegeman – Executive Director
Sam's family attended VWS's weeklong Art of Mentoring program in 2013, and life hasn't been the same since.  He is thrilled and grateful to have found a community that reinforces his family's dedication to living a life based in nature awareness, community development, and personal growth.  He believes that every child and every adult should have the kind of opportunity his family has had.
Sam became the Executive Director of VWS at the beginning of 2015. For the previous five years, Sam worked at CISA (Community Involved in Sustaining Agriculture) where he coordinated PVGrows, a network of people and organizations collaborating around a healthy and sustainable regional food economy. From 2000-2010 he worked in the foundation/philanthropy sector and gained experience in organizational development, facilitation, program/event management, and finance. He graduated with a BA in Environmental Studies from Brown University. Sam and his wife Leslie live in Conway, MA with their two children, who are teaching their parents about trees and making fire.
Field Staff
Abby Mnookin
Abby came on as a lead instructor for the Great Blue Heron Community School in 2014 after volunteering in 2011-2012 when she was pregnant with her first child (who has been happily participating in VWS programs since she turned five). Abby loves being outdoors— wandering, swimming, backpacking, biking, gardening, building fairy houses, and more. She spent several years working in NH's White Mountains, where she had the unique opportunity to live in, and learn from, the alpine zone. Later, she earned an M.S. in Environmental Science at Antioch University New England and taught high school biology for several years, where she had a collection of dermestid beetles that helped clean her animal skull collection. Check out her Vermont Public Radio commentary about working with VWS and her article about primitive cooking for Local Banquet.
Ani Schaeffer
Ani's great joy is working with youth who are moving from childhood into their teen years. She is a licensed teacher, and has been teaching and mentoring elementary and middle school youth in alternative and public schools since 2007. She is also a private writing tutor, former yoga teacher and dancer/dance teacher, and mother to one middle schooler and one high schooler. In the summer she directs VWS's Woodland Words Day Camp.  During the academic year, she teaches Humanities at Hilltop Montessori Middle School, in Brattleboro.
Ani also provides consulting for educators.  See her consulting page. 
Ari Zucker
I live in a creative community where I love to make art, music and good food. I've been working with kids for many years now and am absolutely delighted to be shifting this work outdoors in recent years. I spent much of my childhood playing in the forest and am so happy to be returning and deepening this profound education. I am ever seeking ways to better listen and come home to this earth. I love engaging with nature through deep presence, curiosity and play and I feel so lucky to get to step back into the world of childhood and learn and adventure alongside such wonderful humans.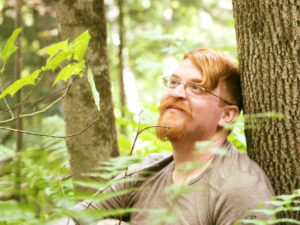 Ash Young
Evan "Ash" Young's passion as an educator is to help students map & nurture their unique gifts, and especially students who experience outsiderness. This passion arises out of their experiences of being raised in cultures outside the US, claiming their power as a queer person, and winning an understanding of the gifts that come from neurodiversity. After graduating from the Wilderness Awareness School's Anake adult training program in 2015, they have been teaching at Vermont Wilderness School programs since 2017.
They previously served on the VWS Core Staff Team as Operations & Programs Coordinator
Ava Whitney
Ava Whitney is a rising senior at BUHS. She loves Vermont and has lived in Brattleboro her whole life. Ava runs cross country, track and field, and Nordic skis. She loves spending time in nature, biking, hiking, and all forms of outdoor adventure. Ava has always enjoyed working with kids and has worked at Green Mountain Camp for Girls, Otter Camp, and babysat for multiple families. As a kid, she attended the Great Blue Heron program for 3 years which was a very impactful and meaningful experience. She is excited to give back to this amazing program, be a part of this great community, and grow as a mentor.

Connor Stedman
Connor has been involved with VWS for many years and for two years served as our Executive Director.  He now joins us each summer to lead Land Stewardship Camp.
Connor has mentored students of all ages in nature connection since 2004 and teaches on knowledge of place and land stewardship around North America.  As an ecological designer, Connor specializes in agroforestry and carbon sequestration on farms. He offers consulting and design for regenerative agriculture systems at AppleSeed Permaculture.  He lives in Florence, MA and travels frequently around the Northeast.
Connor co-organized the internationally acclaimed Carbon Farming Course; has served on leadership teams for Art of Mentoring workshops in Vermont, California, Idaho, Texas, North Carolina, Ontario, and the British Isles; and is a graduate of both the Wilderness Awareness Residential Program and the Regenerative Design and Nature Awareness program. Connor holds an M.S. in Natural Resources from the University of Vermont's Field Naturalist and Ecological Planning program and a B.S. in Eco-Social Design from Gaia University International.
Elias Stegeman
Ella Fajardo-Wilde
Emma Paris
Emma is a homeschooler and poet from Putney Vermont. She loves spending time outdoors and is especially fond of plant medicine and wild edibles. A teen intern for Great Blue Heron and Foxwalk in previous years, Emma is excited to further connect with the VWS community (and nature) as an assistant instructor. When she isn't attending Great Blue Heron herself or playing in the woods with kids, she likes to spend time in the garden, read, swim, and babysit for local families.
Erica Schwabach
Izzy Watkins
Isabella "Izzy" Watkins is a writer and rising homeschooled high school sophomore. Otter Day camp, where she was a student for two years in middle school, inspired her connection with nature. At thirteen, she began volunteering as a teen helper at Otter Day and Great Blue Heron. She loves taking walks and making fairy houses in the woods, cooking outdoors, and exploring rivers.  When she is not outside, the chief of her time is spent in writing stories, poems, and plays.
Jasmyn Atsalis-Gogel

Jasmyn started attending VWS programs when she was six and continued until high school.  After graduation she returned to the world of mentoring youth in nature connection, working various programs throughout the years with VWS, BAMS, and a few others in southern Vermont. Jasmyn is passionate about sharing the gratitude and sense of connection with place and self that she gained from being immersed in nature throughout her youth. She is also passionate about skills such as primitive cooking, basketry and other crafts, tracking, hunting, and stewardship of the land. In addition to working with VWS, she works with sugaring operations throughout New England making maple syrup, and is a K-9 handler for the Vermont Search and Rescue team.  
Karen Rent
Karen grew up in Pittsburgh, PA in a family that dabbled in the outdoors by camping in a pop-up camper up and down the east coast. It wasn't until college that Karen camped in a tent, hiked for the first time, and saw her first shooting star.  She was hooked, switched majors, and never turned back.  She received her B.S. in Recreation and Parks Management from Penn State and her M.A. in Environmental Education from the University of New Hampshire.  During her career in environmental education, she worked for the Appalachian Mountain Club and Maine Audubon before moving to Georgia to be with her one true love, Justin.  She spent a few years in Atlanta, working for the Department of Natural Resources and Stone Mountain, had a couple of kids, and (happily) dragged them all back to New England.  Karen now serves on the New Hampshire Environmental Educators board and dedicates her time to raising an outdoor daughter and son.
Kathy Dean
Kathy has been teaching in the outdoor adventure and nature connection fields for more than 20 years. Together with Jean Bergstrom she co-founded Her Wild Roots, which offers nature education programs for women. She has a passion for birds and has completed White Pine's Advanced Bird Language Program and worked in wild bird rehabilitation with the Vermont Institute of Natural Science. Kathy is the author of the book Abbreviated Field Guide to Mammal Behavior: New England Region (2020). Kathy leads tracking and birding by ear workshops at VWS, in addition to the programs she runs through her own organization Trotting Fox Programs.
Louisa Engle
Luna Cuming-Shaw
Luna started attending wilderness programs with VWS at the age of seven and continued until high school. She also attended the teen program at VWS's Art of Mentoring. Luna is a senior at the Putney School and now more than ever appreciates what VWS has given her throughout the years. A curiosity, love, and connection to nature, and gratitude for the world around her. Luna loves the outdoors, dancing, handcrafting, and community.
Maggie Breen
Maggie has been attending VWS programs since she was 9 years old. She spends her time reading books, riding her horse, and wandering outdoors. She enjoys wild edibles, playing games, craft projects, swimming, hunting, and learning of all kinds. She also works on a few small family farms, bringing in loose hay with draft horses, digging potatoes, getting up for the sunrise, and bird watching. Maggie lives on a small hillside farm in west Brattleboro with her family.
Mikaela Marmion
Natasha Diamondstone
Oliver Scheltema
Owen Diamondstone-Kohout

Owen started attending VWS programs when he was 8 years old and attended for many years, then became a teen helper, then a mentor, and then an instructor.  He left the area for a couple years to attend Green Mountain College, where he graduated before returning to the area.  
Rosa Stegeman
Rosa's first VWS program was the Art of Mentoring when she was 7 years old. That week of being outdoors and spending time with people that she had met there quickly became her favorite week of the year. She later attended many VWS summer camps and some days with the school year program. Rosa spends her free time swimming, reading, singing, and playing ultimate frisbee.
Satya Moses

Satya's love for the outdoors was sparked when he began attending VWS programs at 8 years old. He has staffed nature connection programs and wilderness camps in Vermont, Massachusetts, and New York, as well as abroad in England, Scotland, and Wales.
Zak Grace 
Zak was introduced to VWS in 2014 as a parent of two sons who attended Blue Heron Community School.  Zak is eager and passionate about the great outdoors and loves to share the excitement of discovery and learning with youth.  He has a BA from Hampshire College in Studio Art, and amidst all the excitement of family life he also pursues a career as a glass artist and craftsperson.  
Board of Directors
Ingrid Burrows
John Lee
Kalia Lydgate
Jason Morris
Gia Neswald
Alan Roberts