VWS Consultant: Amy Hyatt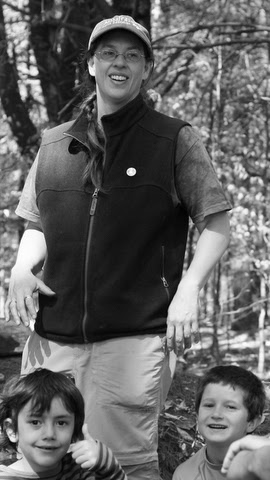 Custom Workshops, Consulting, & 1-on-1 Mentoring with Amy Hyatt
Since 2009, Amy has been providing custom programs and one-on-one mentoring in topics ranging from
– Mentoring & Group Facilitation Skills
– Applied Peacemaking & Restorative Relationship Practices
– Naturalist Development
– Designing for Resilient Intergenerational Communities
– Non-Profit Organizational Leadership
– See Essentials of Resilient Communities Series for more specific topics.
Amy has provided custom programs for the Guelph Outdoor School in Ontario, Two Coyotes Wilderness School in Connecticut, Juniper Hill School in Maine, and Mountain Village Charter School in New Hampshire, as well as one-on-one mentoring and training for staff members of Everyone Outside!, Westbrook Nature School, PennState Harrisburg's Nursing Program and Bronx Community College.
Amy arrived at Vermont Wilderness School in 2001 already with 10 years of experience building community through a lens of cross-cultural relations and a foundation of respecting and valuing each being as unique with a role contributing to a larger Ecological Whole.  VWS and the emergent "nature connection" movement became a vibrant learning community of practice for Amy to expand her skills and experience with multi-species, multi-generational community building and learning to live in ways that support future generations of life.
Amy completed the four-year VWS Instructor Apprenticeship Program in 2005, and she has been a lead instructor since 2003. Her specialty is working with children ages 7-11 and adults of all ages in areas of nature awareness, basic survival skills, cultural facilitation, and community building. She completed a Master of Arts in eco-literacy and place-based education from Union Institute and University and a Bachelor's of Philosophy in Cross-Cultural Communication through the Arts from Miami University.  She is also a Kamana Naturalist Program graduate; completed the White Pine Programs Tracking Apprenticeship Level 2; and is a Graduate of the Guild for Spiritual Guidance Apprenticeship.  The holds the rank of Nidan (2nd Level Black Belt) in Aikido – she has been training since 1998 and continues to actively train as well as teach aikido today.
In her facilitating and mentoring, Amy draws heavily from her life learning experiences with Kaylynn Sullivan TwoTrees, Thea Elijah (Whole Heart Connection and Living the Elements – insights from Chinese Medicine),
Consulting Rates
One-on-one Sessions: Sliding Scale USD $35 – $100/hour (recommend $50-$80)
Custom Programs: Sliding Scale USD $350 – $1,000/Day (plus travel expenses if in-person). Participant limit is based on the intention of the group contracting for the program.  Group Size 5 – 30 People can be with just Amy.  If 30 or more, Amy will suggest a colleague to co-facilitate.  Co-facilitator is an additional matching fee.