Track and Sign Evaluation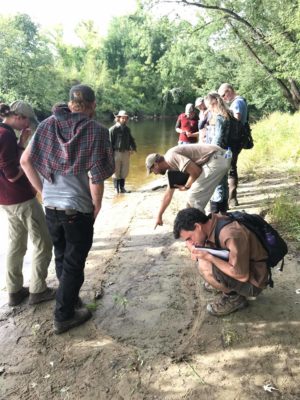 Where: Brattleboro, VT area
When: 
Winter: January 20 & 21, 2024
Program runs approx 8:30 a.m. – 4:00 p.m. each day.
Enrollment: 
January 20 & 21 w/ Nate Harvey FULL. Register for the WAITLIST using the online form below. It is not uncommon for a spot to open up!
Ages: Adults (Age 18+)
Cost: $325 – $415 sliding scale (true cost is $365). Scholarship and Reparations Funds available.
Program Overview
Vermont Wilderness School is happy to host this Evaluation, a two-day interactive tracking experience that offers the chance to immerse deeply into the world of tracking and provide direct feedback on your tracking knowledge.
Each weekend experience is an incredible stand-alone tracking workshop for people of all experience levels. It offers learning, community with other people who love the world of tracks & trails, and the possibility of certification.
The international Tracker Certification webpage says:
The Track and Sign Certification is a two-day practical field test that emphasizes open, honest dialogue and real learning. The tracks and sign of any and all species encountered in the field may be asked, whether big or small, clear or obscure. After participants give their answers, a dialogue ensues between the evaluator and participants to provide the opportunity for everyone involved to learn and for each of us to internalize the field marks used for identification. The Tracker Certifications emphasize practical tracking and the development of reliable field skills, and are unassociated with any particular philosophy or tracking school. No prior training is required to participate.
Track & Sign Eval evaluators working with VWS currently:
Tracker Certification North America (CyberTracker) TCNA is the body the Evaluators are certified by and operate with. Learn more at https://trackercertification.com/.
To Enroll
Complete the registration form below.
Make your payment.

Pay via credit card or PayPal on the righthand side of this page OR;
Send a check payable to "Vermont Wilderness School" to VWS, PO Box 2585, Brattleboro, VT 05303
Full payment due upon registration to reserve your spot.
Complete a Medical Form / Waiver by clicking the tab at the bottom of this page.
Questions? Review our scholarship and cancellation policies for more information. Email bob@vermontwildernessschool.org with any additional questions.
To receive email notifications about this program (save the dates, opening of registration, etc.), sign up here.