The Hunter's Heart – A Hunting Apprenticeship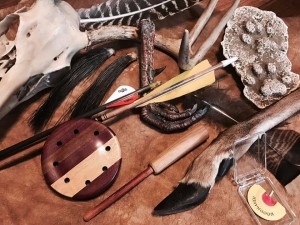 Enrollment: Applications for Registration OPEN. Please use form below to apply.
When: 6 weekends in 2024:
March 2 & 3

April 20 & 21

June 1 & 2

Aug 10 & 11

Oct 5 & 6

Dec 14 & 15
Saturdays 9 am – 3 pm & Sundays sunrise – early afternoon. These hours are subject to minor changes
Where: Brattleboro, VT and surrounding nearby locations
Who: 18 and up
Cost: $1590 – $1790 (sliding scale) plus a $195 equipment fee. Actual per-person cost is $1690 + equipment fee. Scholarship and reparations funds are available.
Program Overview:
If you've never hunted and want to learn, or if you have hunted, but want a different approach, here is a rare opportunity. We often hear from people that they want to try hunting, but don't know where to start. Are you unfamiliar with hunting skills, equipment (including weapons), and regulations? If you actually killed an animal would you have no idea what to do next? These are just some of the common roadblocks separating us from what can be an incredible way to deepen our connection to the cycles of life and death, to our food source, and to the natural world.
By the end of this apprenticeship, you will be prepared to take up hunting on your own.  We'll cover:

Animal tracking and trailing

Firearm safety and use
Turkey hunting
Deer hunting
Scouting, Awareness, & intuition
Butchering, meat preservation, & cooking
Instructors:
Bob Etzweiler (Lead) started hunting at age 12. He is not only one of the most passionate hunters you will ever meet, but also one of the most skillful and reverent. Bob is a longtime teacher at the Vermont Wilderness School, leading both youth and adult programs. His adult program offerings at VWS include the Wildlife Tracking Apprenticeship, the Summer Tracking Intensive, the Hunter's Heart and the annual Lynx Tracking Expedition. For years Bob dreamed of this apprenticeship as a way to share his hunting knowledge and experience, and he is thrilled to be offering it once again.
Jasmyn Atsalis-Gogel (Assistant) started attending VWS programs when she was six and is now one of the most senior instructors in today's youth programs. She is passionate about sharing the gratitude and sense of connection with place and self that she gained from being immersed in nature throughout her youth. Jasmyn is skilled in butchering and animal processing and gifted at sharing those skills with students. A capable hunter, tracker, primitive cook, crafter, and steward of the land, she's always seeking to develop and push her skills further.
To Apply:
 Applications are reviewed on a rolling basis until the course is filled, so we encourage you to apply early!
Complete the application below.
Bob Etzweiler will respond within 2 weeks, and might invite a phone interview. He will inform you if you are accepted.
Deadline for requesting scholarship is January 15. Scholarship offers will be emailed the following week.
Send a $150 deposit within 7 days of your acceptance, to reserve your slot.
The remaining balance is due February 1.
Complete the "VWS Medical Form" via the tab at the bottom of this page.
To Pay:
Make a secure online payment via the PayPal box at the bottom of this page OR;
Send a check payable to "Vermont Wilderness School" to: Vermont Wilderness School, P.O. Box 2585, Brattleboro, VT 05303.
Questions? Read our scholarship and cancellation policies for more information. Email office@vermontwildernessschool.org with any additional questions.
Additional Notes:
Participants provide their own food and accommodations. Contact us and we may be able to help you find lower-cost options.
The apprenticeship includes one actual hunt— a squirrel hunt— which is optional. To participate in the hunt, you must have completed a VT Hunter Education Course and possess a current Vermont Hunting license. (See this website for course dates.)
Owning a hunting weapon is not required to participate in the apprenticeship. If you do plan to obtain a hunting weapon and a hunting license, Bob is available to guide you through that process after the apprenticeship begins.
This is not a "primitive skills" hunting apprenticeship.  However, the skills taught will support all types of hunting.
There will be optional homework, designed to take the lessons of the course further.
The Hunter's Heart is far more equipment-intensive than any other VWS program. For this reason, we charge a $195 equipment fee in addition to whatever amount you choose on the sliding scale. Our intent is to introduce apprentices to a wide variety of hunting equipment, including firearms, bows, ammunition, blinds, tree stands, calls, butchering equipment, and more. The equipment fee covers VWS's rental and/or provision of equipment throughout the apprenticeship.
To receive email notifications about this program (save the dates, opening of registration, etc.), sign up here.