Wildlife Tracking Apprenticeship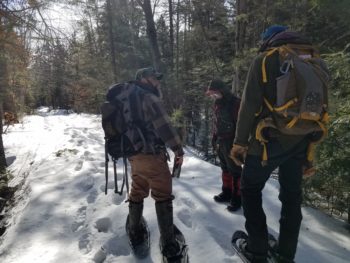 Enrollment: Full for Winter 2023 – 2024.
Where: Various locations within 30 miles of Brattleboro, VT.
When: the following Saturdays & Sundays in 2023-2024. Program hours may vary slightly but will generally follow a 8/9 am – 3/4 pm pattern.
October 7 & 8, 2023
December 16 & 17, 2023
January 13 & 14, 2024
February 10 & 11, 2024
March 9 & 10, 2024
April 6 & 7, 2024
June 8 & 9, 2024
Who: Adults (Age 18+). Open to both novice and experienced trackers. Maximum 6 participants.
Cost: $1375 – 1775. Actual per-person cost is $1575. Scholarship and Reparations Funds available.
Program Overview
Vermont Wilderness School's Wildlife Tracking Apprenticeship provides quality instruction in wildlife tracking in a wide variety of conditions, over seven weekends spread out across three seasons.
Tracking is an invitation to slow down, look more closely, and question what we're seeing. It's a chance to get to know our "more than human" neighbors more deeply and intimately. It's a journey to seeing our relationship and connection with the natural world more clearly.
Tracking can seem inaccessible, a skillset with which it's hard to make headway. Working with a skilled tracking teacher can dramatically flatten the learning curve, bring results more quickly, and be a rewarding and fun experience. The teaching approach will be to "build it from the ground up." The apprenticeship will include field time, presentations, and optional "homework." Topics to be covered:
Tools for clear track identification
Wildlife "sign" identification
Body mechanics, gaits, and track patterns
Trailing
Wildlife interactions with the landscape
General naturalist knowledge related to tracking
Tracker field conduct
* The apprenticeship will provide excellent preparation for anyone interested in taking Wildlife Track & Sign Evaluations. 
Note: each participant has the option to meet with the instructor to customize your learning goals and the level of challenge you desire.
Meet the Instructor
Bob Etzweiler is a longtime teacher at the Vermont Wilderness School, leading both youth and adult programs. He runs our Lynx Tracking Expedition, Hunting Apprenticeship and Summer Tracking Intensive. Bob has over a decade of experience in Wildlife Tracking, has been hired on wildlife track surveys, and is CyberTracker Level IV certified. He's a skilled and passionate tracker and teacher.
To Apply
Complete the application below and click submit. We will respond to your application as soon as possible, likely within 3 weeks.
To Pay
If accepted before September 1, a $150 deposit will be due within 7 days of your acceptance to reserve your slot. The remaining balance is due September 1. After September 1, anyone applying must pay in full upon acceptance.
Make a secure online payment via:

the PayPal box on the righthand side of this page OR;
a check payable to "Vermont Wilderness School" sent to: VWS, P.O. Box 2585, Brattleboro, VT 05303.
Review our scholarship and cancellation policies for more information.
Upon acceptance to the program, please complete the "VWS Medical Form" via the tab at the bottom right of this page.
 Questions? Email office@vermontwildernessschool.org.
To receive email notifications about this program (save the dates, opening of registration, etc.), fill out our short Interest Form.