Wildlife Tracking Day
Date: 2020 tracking dates to be announced in January 2020. To be notified when registration opens fill out the short form below.
Location: near Buckland, MA. The specific location will be announced one week before the class.
Cost: $40 – 60 (sliding scale). Scholarship available.
Ages: Adults. Motivated youth considered.
Tracking in Winter
Snow on the ground leaves beautiful clues for the curious tracker. Come join the Vermont Wilderness School to build your ecological literacy and find out what the animals are up to in the cold weather! Right now Bobcats are seeking prey, coyotes and foxes are marking in preparation for the February mating season. Whose tracks will we see? Who will we be able to trail over the snows? Come with us and find out!
In this beginner-friendly experiential workshop we will wander over the beautiful forests area covering basic tracking curriculum, connecting with the natural world around us, making friends with fellow trackers, and having fun!
Instructor Bio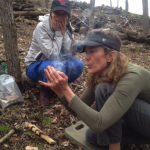 Kathy Dean is has been teaching in the outdoor adventure and nature connection fields for more than 20 years. Together with Jean Bergstrom she co-founded Her Wild Roots, which offers nature education programs for women. She devotes most of her dirt time and study to animal tracking and bird language, as these are two of her biggest loves.
Registration
Maximum 10 participants
Indicate your interest by completing the form below and clicking "SUBMIT"
Make a payment either:

Online via credit card or Paypal by filling out the box to the right
Send a check payable to "Vermont Wilderness School" to: VWS, PO Box 2585, Brattleboro, VT 05303