Wildlife Tracking Day
Enrollment: Full! But check out the additional tracking workshop we've launched!
When: 9am – 3pm, Saturday February 20, 2021. Rain date: Sunday February 21.
Age/experience level: Adults 18+, motivated youth considered. No experience necessary.
Cost: $50 – 70 (sliding scale). Financial aid available.
Where: Near Buckland MA. Specific directions will be shared a week before the program.
REGISTER BY COMPLETING THE FORM BELOW
Tracking in Winter
Snow on the ground leaves beautiful clues for the curious tracker. Come join the Vermont Wilderness School to build your ecological literacy and find out what the animals are up to in the cold weather! Right now Bobcats are seeking prey, coyotes and foxes are marking in preparation for the February mating season. Whose tracks will we see? Who will we be able to trail over the snows? Come with us and find out!
In this beginner-friendly experiential workshop we will wander over the beautiful forests area covering basic tracking curriculum, connecting with the natural world around us, making friends with fellow trackers, and having fun!
Instructor Bio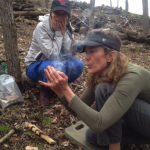 Kathy Dean is has been teaching in the outdoor adventure and nature connection fields for more than 20 years. Together with Jean Bergstrom she co-founded Her Wild Roots, which offers nature education programs for women. She devotes most of her dirt time and study to animal tracking and bird language, as these are two of her biggest loves.
Registration
Complete the registration form below and click "SUBMIT". Be sure to save the automated confirmation email you should receive.
Make a payment either:

Online via credit card or Paypal by filling out the box to the right
Send a check payable to "Vermont Wilderness School" to: VWS, PO Box 2585, Brattleboro, VT 05303

Your spot is secure once we have received your registration and payment.
See our scholarship and cancellations policy page for more information about payment.