Wildlife Tracking Apprenticeship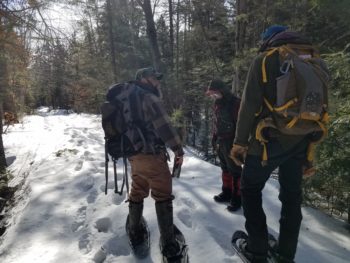 Enrollment: Registration opens soon! To be notified, complete the short form below.
Where: Various locations within 30 miles of Brattleboro, VT.
When: the following Saturdays & Sundays in 2021-2022. Program hours may vary slightly but will generally follow a 9am-4pm pattern.
October 9 & 10, 2021
December 18 & 19, 2021
January 15 & 16, 2022
February 12 & 13, 2022
March 12 & 13, 2022
April 9 & 10, 2022
June 11 & 12, 2022
Who: Adults (Age 18+). Open to both novice and experienced trackers.
Cost: TBA
Vermont Wilderness School's **NEW** Wildlife Tracking Apprenticeship will provide quality instruction in wildlife tracking in a wide variety of conditions, over seven weekends spread out across three seasons.
Tracking is an invitation to slow down, look more closely, and question what we're seeing. It's a chance to get to know our "more than human" neighbors more deeply and intimately. It's a journey to seeing our relationship and connection with the natural world more clearly.
Tracking can seem inaccessible, a skillset with which it's hard to make headway. Working with a skilled tracking teacher can dramatically flatten the learning curve, bring results more quickly, and be a rewarding and fun experience. The teaching approach will be to "build it from the ground up." The apprenticeship will include field time, presentations, and optional "homework." Topics to be covered:
Tools for clear track identification
Wildlife "sign" identification
Body mechanics, gaits, and track patterns
Trailing
Wildlife interactions with the landscape
General naturalist knowledge related to tracking
Tracker field conduct
Note: each participant has the option to meet with the instructor to customize your learning goals and the level of challenge you desire.
Meet the instructor –
Bob Etzweiler is a longtime teacher at the Vermont Wilderness School, leading both youth and adult programs. He runs both our annual Lynx Tracking Expedition and the Hunter's Heart Hunting Apprenticeship. Bob has over a decade of experience in Wildlife Tracking, has been hired on wildlife track surveys, and is CyberTracker Level III certified. He's a skilled and passionate tracker and teacher.
Complete this form to be notified when registration opens: