Lynx Tracking Expedition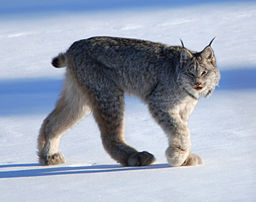 Enrollment: Not yet open. To be notified when registration opens (typically in October), complete the short form below.
Where: Near Jackman, ME (carpooling to be organized prior to the workshop).
When (2023): Thursday evening through Sunday morning, February 23-26, 2023. Participants meet near Jackman ME on the evening of 2/23 and head home on Sunday 2/26.
Ages: Adults and motivated teenagers.
Cost (2023): TBA. Last year's cost was $450 – $595 sliding scale. (The true cost is $525 per participant.) Cost includes cabin lodging and instruction. Participants bring own breakfast and lunch, and contribute to potluck dinners.
Join Vermont Wilderness School for a long weekend on the trail of one of the most elusive carnivores of the Northeast.
The Canada Lynx is built for deep snows, long winters, and big wilderness – all found in the vast lands of Northern Maine.  We will spend the weekend together tracking, trailing, learning winter ecology, and building connection with the grey ghost of the North!
Evenings are spent around the fire in our cabins, where we'll share meals and stories of the day.
Expedition Leader Bios:
Bob Etzweiler is a longtime teacher at the Vermont Wilderness School, leading both youth and adult programs. He runs both our Tracking Apprenticeship and the Hunter's Heart Hunting Apprenticeship. Bob has over a decade of experience in Wildlife Tracking, has been hired on wildlife track surveys, and is CyberTracker Level III certified. He's a skilled and passionate tracker and teacher.
Past Co-Leader: Kathy Dean has worked in the field of outdoor education since 1983 as a wilderness guide, rock climbing instructor and teacher of animal tracking, bird language and nature awareness. In addition to working with several nature education centers, she offers wildlife tracking, bird language and custom-tailored nature programs through Trotting Fox Programs. Kathy is the author of Abbreviated Field Guide to Mammal Behavior: New England Region. She lives in a small hill town in western Massachusetts and is blissfully surrounded by woodlands, wetlands and wildlife. You can learn more about her here.
COVID-19 Protocols:
Our overall COVID-prevention protocols can be found at the link above in our main menu. Furthermore, because this program will involve extended time together indoors after our days of tracking are over, carpooling to and from tracking sights will likely be required, and we typically share potluck meals for dinner, additional COVID-prevention protocols may be in place at THIS program. Specifically, we will also be requiring Lynx Expedition Participants & Staff to provide:
Proof-of-COVID-vaccination.
AND
Negative results from a COVID test taken shortly before the 1st day of the program.
To Register:
Registration for 2023 will open in October. Complete the form to be notified when it opens.
When it becomes available again, complete the registration form and be sure to click SUBMIT. Check your email for the automated response with the subject "[Your name]'s Lynx Tracking Expedition has been received" that serves to confirm that we have received your registration.
Your spot is secure once we receive the registration form and a payment from you. You may pay in full now, or pay a $150 deposit. Any remaining balance is due February 1st.

Make a secure online payment by credit/debit card or PayPal by using the payment box in the righthand sidebar.
OR
Send a check payable to "Vermont Wilderness School" to: VWS, PO Box 2585, Brattleboro, VT 05303.

Complete a Medical Form by clicking the tab at the bottom of this page or by visiting this link.
Please review our scholarship and cancelation policy page for more details. Questions? Email office@vermontwildernessschool.org or call 802-257-8570