The Great Blue Heron Community School
Ages: 7 – 15
When & Where: the program meets weekly from 9:00 am – 3:00 pm. 2021-2022 locations & days of the week:
Thursdays in Dummerston. Enrollment status:

Currently accepting registration for returning & previously waitlisted families.
Complete this form to be notified if any new family spots open or to receive information about getting on the 2022-2023 waitlist.

Tuesdays in Putney. Enrollment status:

This program will run if there is sufficient interest from families.
Complete this form if you are interested in attending.
Cost: $1,575 – $2,500 (sliding scale) for 27 Sessions.  Actual per-student cost is $1,950 (or $70 per day). Scholarship funds are available.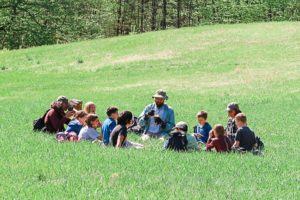 Vermont Wilderness School programs inspire young people to deepen their relationships with the natural world and each other. Youth gain life skills and confidence, guided by an experienced team of instructors. Our approach to nature connection emphasizes outdoor living skills, naturalist knowledge, dedication to community service and social equity, and social/emotional development.
The Great Blue Heron Community School is the new name for the program that for 20 years was called the "Oyase Community School."  In 2020 we retired the name "Oyase," acknowledging that it is harmful for a non-Indigenous-led program to use a Lakota name. See our public letter on the name change here.