Earthfriend Discovery Day Camp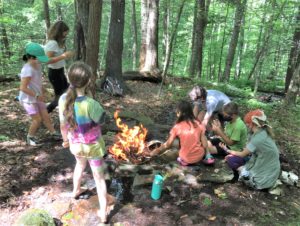 When:  2 sessions (M-F, 9am – 3pm)
Week 1: Aug 1 – 5, 2022. Spaces available! Follow the registration instructions below to sign up.
Week 2: Aug 8 – 12, 2022. One spot available for 7 or 8 year old. Follow the registration instructions below to sign up.
Ages:  7 – 12
Where:  The Manitou Project land in Williamsville, VT (20 minutes from downtown Brattleboro)
Cost: $315 – 415 (sliding scale).  The true cost per camper is $350.
Earthfriend Discovery Day Camp is committed to nurturing the loving and magical connection the young naturally feel with their environment and all forms of life on this planet.
Earthfriend was started by The Manitou Project in 2004 with seven campers. By 2008, the camp had 20+ campers, with many returning year after year. In 2010 the Manitou Project began partnering with Vermont Wilderness School.  VWS provides quality, experienced staff and a level of professionalism to the camp experience while continuing to embody the Manitou vision of the camp. The Program Director / Lead Instructor will be veteran Amy Hyatt (both weeks).  Additional staff to be announced.
At this camp your child mind find themselves doing things like…..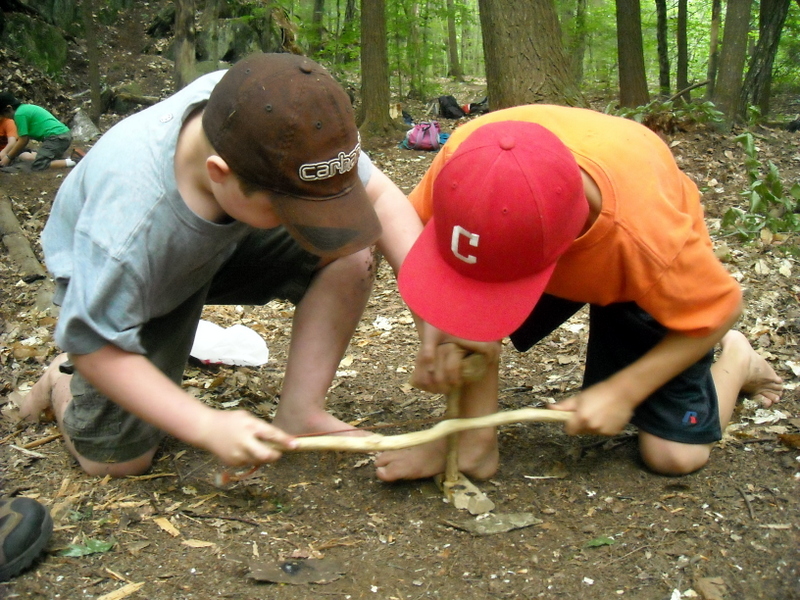 Build a Lost Camp
Wade in the stream and catch frogs
Follow the tracks of a deer
Make coal-burned bowls & spoons
Learn to carry fire from one place to another safely
And lots more! (Click here to learn more about what we'll be doing at camp this summer…)
Please note, this program is done in partnership with the Manitou Project. VWS does staff this program, and the flavor of the camp is in line with all of our programs, but the payment options and some of the "behind-the-scenes" administration are different than the other camps and programs on this website.
REGISTRATION INSTRUCTIONS
Complete the registration form below for each child and be sure to click SUBMIT at the end. Check your email inbox for the automated confirmation email with the subject "[Child Name]'s Earthfriend Day Camp Registration has been received."
Your spot is secure once we have received a payment (unless you see a message that you're going onto a waitlist; in which case no payment is due until you are offered a spot). You may pay in full now, or a $65 deposit PER WEEK PER CHILD. Any remaining balance is due June 1st (or upon registration, for those registering after June 1st).

Note: if you sign up for both weeks and wish to withdraw your child from one, you may do so. However, your deposit for the week you withdraw from will be retained (and potentially more of your payment for that week, see here for details about our cancelation policy).
To pay:

Make a check or money order out to "The Manitou Project" and mail it to Earthfriend DDC, c/o Vermont Wilderness School, PO Box 2585, Brattleboro, VT 05303. You can write one check for multiple enrollments (please note who the payment is for).
OR
If you need to pay a different way, please email EarthfriendDDC@gmail.com.

Complete the VWS Medical Form using the tab at the bottom of this webpage or by going to this link.
Looking for a scholarship? Complete the registration form below, indicating your scholarship request. Read our scholarship and cancellations policy page for more information.  The deadline to submit scholarship requests is May 1st.
Questions about camp?  Please contact us at EarthfriendDDC@gmail.com.