Wild Turkeys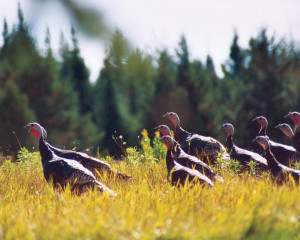 Enrollment: registration for '21-'22 session will open soon. To be notified when it registration for the following sessions opens, complete the short form below. 
When: 9am – 3pm monthly on Saturdays, October through June.
Where: The woods of Putney, VT
Ages: 7 – 15. (other ages considered on a case-by-case basis)
Cost (2020 prices): $550 – $775 (sliding scale) for 8 sessions.  Actual per-student cost is $650. Scholarship funds are available.
Wild Turkeys is a three-season nature connection program for adventurous kids with a passion for the arts of wilderness living. Our instructors have stories, skills, and songs to share, challenges for those who are ready, and games to keep the group alive and wild! We are guided by the combined passions of the youth and the instructors, the seasons and weather, and the unique magic that each day has to offer.
Join us, as we:
Learn fire building, shelter construction, rope-making, navigation, and animal tracking
Build our naturalist knowledge and hone our senses, intuition, and awareness skills
Cook over the fire
Play lots of games!
If you love other Vermont Wilderness School programs — like Otter Camp, Oyase, Earthfriend Camp, Shambhala Camp, or Foxwalk— you'll love Wild Turkeys! (And if you've never done one of our programs, Wild Turkeys is a great place to get started…)
2020-2021 Program Dates
 October 3rd
 November 7th
 December 5th
 January 9th (2nd Saturday to avoid the New Year)
 February 6th
 March 6th
 April 3rd
 May 1st
(Make Up Day: May 15th)
 June 5th
Instructors:
Wild Turkeys is a creation of VWS's very own "turkey afficionado," Bob Etzweiler.
Joining Bob will be some other VWS instructors you've come to know and love from: Otter Day Camp, Great Blue Heron Community School, and Foxwalk Forest School. He won't be doing hugs like this in 2020 but he wishes he could.
HOW TO REGISTER
Complete the short form below to be notified when registration re-opens.
When it becomes available fill out the registration form and be sure to click the SUBMIT button.

A completed registration will generate an automated confirmation email with the subject "[Youth Name]'s Wild Turkeys Registration has been received." Save that for proof-of-registration.

Send us a payment as described in the registration form.

You can pay by card now using the box on the right —>
OR
You can send a check to Vermont Wilderness School, PO Box 2585, Brattleboro, VT 05303.

Complete the VWS Medical Form accessible on the lower right side of this webpage or at this link.
Your spot will be held once we receive the registration form and your payment.
Looking for a scholarship?  Complete the registration form below and select the low end of the sliding scale. Read our scholarship and cancellations policy page for more information.
Questions?  Please contact us at office@vermontwildernessschool.org or call 802-257-8570.